Burnett Media Center
Welcome to the
Super Reading Headquarters
Where Reading is our Super Power!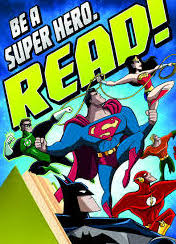 It is a right and privilege of all students (and parents) of the L.W. Burnett community to use the Media Center as follows:
· Our hours are 8:15 AM to 2:30 PM
· Students in Kindergarten through 1st grade are allowed to check out one book at a time for a period of one week. Kindergarten students keep their books in the classroom.
· Second through fifth graders are allowed to check out two books at a time for a period of two weeks.
· All patrons are asked to return materials before extended school breaks. If students do not return books are have a fine, they will not be allowed to attend the Friday Movie Day prior to break.
· Parents may check out items from the Parent Resource Center for a period of two weeks.
· All patrons must exhibit RESPECT for themselves, others, and school property.
· All patrons must accept and exhibit responsibility for Media Center materials. (All lost or damaged materials must be paid for prior to receiving student report cards).
We have access to a new reading program called MyOn. Click here to log in. Your child's username is the same username as when they get onto the computer (initials and lunch number) and the password is their birthdate--2 digit month, 2 digit day, and 2 digit year.
We have access to e-books. Click this link. Your child can now log in to access e books from home. Their login for e books is the same log in they use at school to get on the computer. Also, you can log in as a guest and view the books, however, you can not check them out.
Username: burnett
password:tigercubs
You can also access our media center's catalog to see books we have at Burnett : http://destiny.douglas.k12.ga.us/
Please check out the links tab up top to see some educational links and links to the kid's favorite authors.